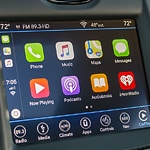 Driving a sedan becomes memorable when the vehicle is a full-sized one. The scope adds to the unforgettable nature. When the model also comes in a luxury package, things become even more spectacular. The luxurious Chrysler 300 hits every element a full-sized luxury demand could deliver, and consumers reacted positively. The technology features contribute to the reaction.
Drivers rely on their iPhone, and the Chrysler 300's Apple CarPlay support keeps drivers connected. A beautiful touchscreen display allows for accessing the apps. Voice control also increases access and does so safely. Google fans take note: the 300 also delivers Android Auto integration.
The vehicle also comes with 4G LTE Wi-Fi Hotspot, so passengers can stay connected while driving. Of course, the driver can do so when parked and enjoying a coffee in Alexandria.
How about seeing what the Chrysler 300 can do? Request a test drive at Juettner Motors Inc and enjoy the time on the road.