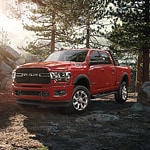 The Ram 2500's rep speaks for itself, illustrating why this heavy-duty pickup continues to be a top pick in its category. It's ideal for everyday worksites, commercial purposes or for anyone who values a pickup that can manage high payload and towing efficiently. Our Juettner Motors Inc team can't wait to share Ram 2500's powertrain options with you in person. For now, here are two options worth considering.
Six-Speed Manual Transmission
For those who like it old school, Ram 2500 offers s Six-Speed Manual Transmission. It lets you shift gears manually for precise, spot-on control and smooth speeds to suit your hardest working conditions. Plus, a uniquely designed clutch compensates for wear, offering clutch pedal performance that feels and acts like new over the vehicle's lifetime.
The 6.7L Cummins Turbo Diesel I6
When paired with the above transmission, Ram 2500 supports a 3,100-pound payload and tows up to 18,000 pounds. These gargantuan capacities are the major benefits of the Cummins's 370 horsepower and whopping 800 lb.-ft. of torque.
Visit Juettner Motors Inc today for more Ram 2500 powertrain options or for a Ram 2500 test drive.